Griddle

Produced by

1x Sweaty Woodlet
1x Indomitable Bark

Used for

Cooking

Text

Oh griddly barbecue of bodaciousness, crafting you will be no mis-steak for we're marin-made for each other.
The griddle is used for
cooking
raw foods. Cooking raw foods yields better stamina regains.
Cooking food
Edit
To cook raw foods you have to use the food while standing near the griddle, however there has to be a fire going in order to cook food at the griddle. The bigger the fire the less time cooking takes. Food cannot be burned.
Raw foods that can be cooked: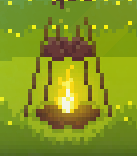 The griddle is crafted with 1x indomitable bark and 1x sweaty woodlet while being in the camp.